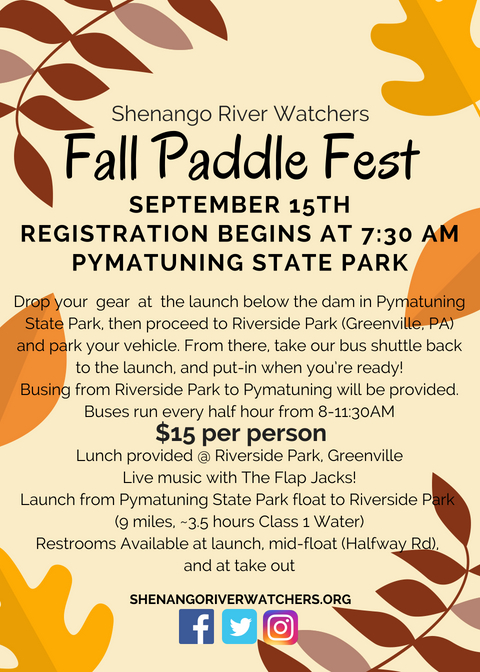 FALL PADDLE FEST
Enjoy a float down one of Pennsylvania's Official Water Trails!
After the float, enjoy live music and a cookout with fellow paddlers.
HOW DOES IT WORK? Drop your gear at the launch below the dam in Pymatuning State Park, and then proceed to Riverside Park (Greenville, PA) and park your vehicle. From there, take our bus shuttle back to the launch, and put-in when you're ready!
Busing from Riverside Park to Pymatuning will be provided. Buses run every half hour from 8-11:30AM.
How much does it cost? $15 per person
What does that get me? A beautiful day on the river, shuttle, AND lunch! All proceeds from this event help pay for Water Trail maintenance. Lunch provided @ Riverside Park, Greenville.
WHERE DO I PUT IN AND GET OUT? Launch from Pymatuning State Park float to Riverside Park (9 miles, ~3.5 hours Class 1 Water)
Restrooms Available at launch, mid-float (Halfway Rd), and at take out.
Registration 7:30 am – 11:00 am at Pymatuning State Park
$15 per person
You must register BEFORE you ride the bus back up to Pymatuning.
Shenango River Watchers is a non-profit organization, we do not have kayaks or canoes to rent. Sorry!
There is no pre-registration. You can print and fill out the registration form at home and bring it with you on the day of to make the registration process quicker and easier.
If you have any further questions, please feel free to contact our office!