Current Events
2015 Dates to Save
Other Dates for 2015 events coming soon!
February 17: SRW Annual Public Meeting
Bicentennial Park Fishing Pier
The latest project of the Shenango River Watchers is the installation of a Handicap Accessible Fishing Pier in Bicentennial Park in Downtown Sharon, PA. The fishing pier is still in a predevelopment stage. SRW has managed to raise money for this project through fundraisers and donations; donations are still being accepted. The fishing pier is set to be located near Budd Street in Bicentennial Park. Shenango River Watchers hopes to begin construction in the Spring of 2015.
River Watchers, Park laud participants in environmental day
October 20, 2014 Jennifer Barborak
On behalf of Shenango River Watchers and Buhl Park Corporation, I would like to express our gratitude to the donors, presenters, volunteers and Farrell and Sharon 5th-grade teachers and students who made Environmental Education Day a success.
Students enjoyed learning about watersheds from Trumbull Soil and Water and the Mercer County Conservation District, learning about food webs from the 6th-graders at Musser Elementary and Insite Group, and building fish habitat structures to be placed in Shenango Lake with the Army Corps of Engineers and Pennsylvania Fish and Boat.
Students also learned about stream conservation and fishing from Trout Unlimited, about birds from DCNR-Pymatuning State Park and wildlife from the Mercer County Conservation District, and learned how to read a map and orient themselves using a compass from a Boy Scout scoutmaster.
More than 20 volunteers came to the park to help direct students and photograph the event. We would like to thank the following additional sponsors for the event: Plaza Pizza, UPMC Horizon and Quaker Steak and Lube. Thank you, everyone.
JENNIFER BARBORAK is a co-founder of the Shenango River Watchers.
Electronics Recycling
Pennsylvania's Covered Device Recycling Act states that effective in January, 2013, landfills may no longer accept electronics. These items must be recycled. Items included in this disposal ban are televisions, computers (including monitors, keyboards, mice, printers), and cell phones.
The Lawrence-Mercer County Recycling/Solid Waste Department has prepared a guide to locations where you may recycle these items.
Our Mission
Shenango River Watchers is a non-profit watershed group formed to restore and protect the environmental, scenic, and recreational attributes of the Shenango River Watershed.
Working together, our members and other volunteers have cleared hundreds of tons of garbage and thousands of tires from illegal dump sites along the river, constructed canoe launches, and monitored the water quality of the Shenango River.
Help us to make the river a better place for everyone who lives in or visits the Shenango Valley.
Aluminum Dropoff Site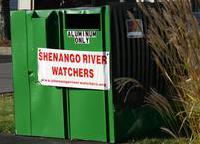 We asking for your donation of any clean aluminum in the parking lot of The Engraving Place 1945 East State Street Hermitage, Pa (next to the Dairy Queen). All proceeds stay local to help clean, preserve and protect your watershed. Special thanks to The Engraving Place Owner, Laura Fleming, Tri-County Industries Inc. and Sherwin Williams Paint.