Golf Scramble — Sunday September 8
Open to the public. Net proceeds will be used to help finance the handicapped accessible fishing pier in Bicentennial Park in downtown Sharon, PA.
Hickory VFW Golf Course. Four person golf scramble. Rain or Shine! 9:00 a.m. shotgun start.
$260 per team ($65 per person). Dinner only (non-golfers): $25. Event fees include: Coffee, donuts, greens fees, hot dogs at the turn, steak dinner and cash prizes for top 4 teams.
Registration and fees due by Friday August 23rd. Call the SRW office or email info@shenangoriverwatchers.org.
See the full-size flyer for more details.
There are also sponsorships available for this event.
Rally on the River — Saturday, September 14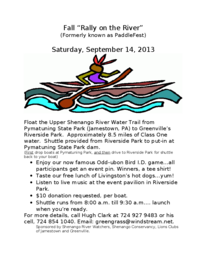 Float the Upper Shenango River Water Trail from Pymatuning State Park (Jamestown, PA) to Greenville's Riverside Park. Approximately 8.5 miles of Class One water. Shuttle provided from Riverside Park to put-in at Pymatuning State Park dam.
First drop boats at Pymatuning Park, and then drive to Riverside Park for shuttle back to your boat.
Odd-ubon Bird I.D. game
Free lunch!
Live music
$10 donation requested, per boat
Shuttle runs 8:00 to 9:30 a.m

See the full-size flyer for more details.
SRW Receives Pennsylvania Environmental Council's Western PA Environmental Award
Congratulations River Watchers!
Shenango River Watchers was recently chosen as one of the Pennsylvania Environmental Council's Western PA Environmental Awards recipients. We were nominated by Hugh Clark for our work in clearing the Upper Shenango River of obstructions and the creation of the Upper Shenango Water Trail. The
awards ceremony
is open to the public and is at the Westin Convention Center in Pittsburgh on May 23rd. Come and show your support of our group and join us in receiving this prestigious award. It is a tremendous honor. Thanks to all of you, our awesome members and supporters!
Electronics Recycling
Pennsylvania's Covered Device Recycling Act states that effective in January, 2013, landfills may no longer accept electronics. These items must be recycled. Items included in this disposal ban are televisions, computers (including monitors, keyboards, mice, printers), and cell phones.
The Lawrence-Mercer County Recycling/Solid Waste Department has prepared a guide to locations where you may recycle these items.
Current Events
2013 Dates to Save
September 14: Rally on the River
October 1: Environmental Education Day
October 17: Wine and Cheese Fundraiser
December 5: Repeal Day Fundraiser
Shenango River Water Trail Update
In March of this year, the Pennsylvania Environmental Council (agent for PA's Fish and Boat Commission in most matters pertaining to Water Trails) informed us that our application for Water Trail status is approved! Thus, we are now officially the Upper Shenango Rive Water Trail. To reiterate, our Water Trail is that reach between Lake Pymatuning near Jamestown PA (far southern Crawford County) and Lake Shenango, near Transfer, Clark and Sharpsville, PA (Mercer County).
Additionally, in recognition of our success and hard work, PEC has selected us as a one of their Western PA Environmental Projects of the Year! With that comes statewide recognition and a $5,000 award!
We are nearly ready to distribute a brochure/map of the Water Trail. It will be found at park offices, Chambers of Commerce, perhaps boat liveries and retailers, and the like. Or, contact us and we'll mail you one.
Also coming is PA's first all on water geocache course. We expect it to be in place and ready for treasure hunters mid summer this year.
SRW is working with the Army Corps of Engineers and PennDot to improve the primitive launch at New Hamburg. Ownership obligations between the Corps and PennDot (Corps land, PennDot right of way easement) make this something of a bureaucratic snarl, but we are getting there.
A West Middlesex PA Eagle Scout candidate has taken on the project to improve the launch at Porter Rd., just above Greenville. He will develop a small parking area, and improve the path from it to the river.
Please support our activities, make a generous contribution to Shenango River Watchers, tell your friends about what we're about; but most importantly, jump in a canoe or kayak and see your river!
Our Mission
Shenango River Watchers is a non-profit watershed group formed to restore and protect the environmental, scenic, and recreational attributes of the Shenango River Watershed.
Working together, our members and other volunteers have cleared hundreds of tons of garbage and thousands of tires from illegal dump sites along the river, constructed canoe launches, and monitored the water quality of the Shenango River.
Help us to make the river a better place for everyone who lives in or visits the Shenango Valley.
Aluminum Dropoff Site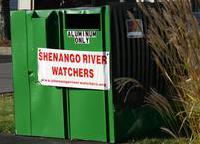 We asking for your donation of any clean aluminum in the parking lot of The Engraving Place 1945 East State Street Hermitage, Pa (next to the Dairy Queen). All proceeds stay local to help clean, preserve and protect your watershed. Special thanks to The Engraving Place Owner, Laura Fleming, Tri-County Industries Inc. and Sherwin Williams Paint.